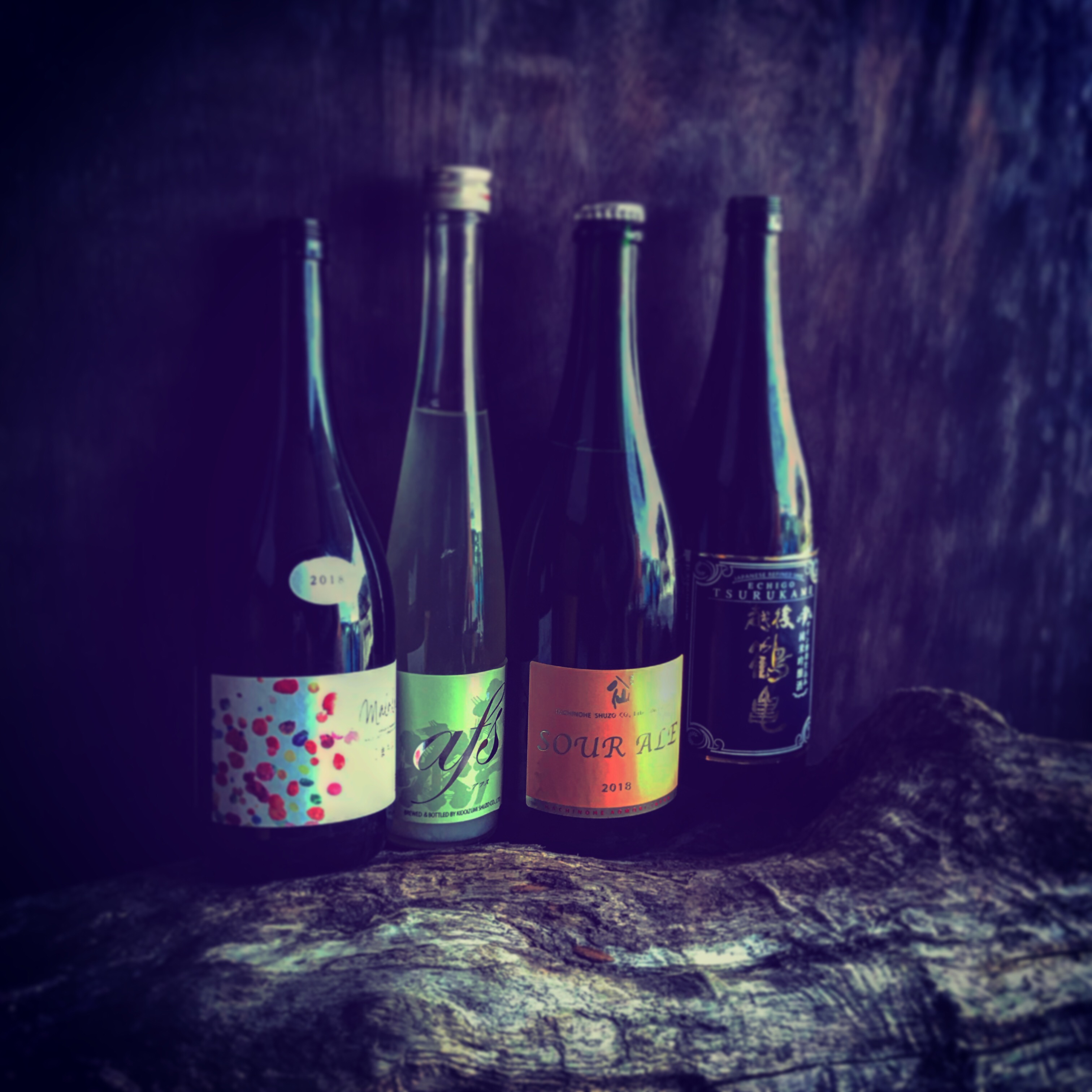 ◆
SAKEは常に進化している。
SAKE is always evolving.
「無濾過」。「生酒」。「原酒」。巷の酒場でも時々見かけるようになったこれらの特徴的なTYPEの日本酒。つい10年前までは、コダワリの強い飲食店でしか飲むことはできなかった。
Muroka [Unfiltered]. Namazake [Unpasteurized] . Genshu [Undiluted]. These distinctive types of sake have recently become more and more popular at local bars. Just 10 years ago, you could only drink them at highly exclusive bars.
◆
ワイン酵母仕込み。/ Wine yeast preparation.
高温山廃仕込み。/ High temperature starter mash preparation.
酒母絞り。/ Mash filtration.
瓶内二次発酵。/ In-bottle secondary fermentation.
マロラクティック製法。/ Malolactic fermentation.
微発泡にごり。/ Bihappo Nigori Sake [Sparkling unrefined sake].
一口飲んで「これは本当に日本酒なの?」と我々日本人でさえも驚くような新しい味の酒が、日々生まれている。それらは、和食やフュージョン料理。そしてフレンチやイタリアン、中華料理などにも、驚くべきマッチングを生み出すものも多い。
Surprising new flavors of sake are continually being invented. Just one sip will have even us Japanese asking ourselves, "Is this really Japanese sake?" They pair well with Japanese and Japanese-fusion cuisine. Many of them also go surprisingly well with French, Italian, Chinese, and other cuisine.
◆
SAKEの情報は1年で古くなり、同時にそれらが層になって、日本酒という分野の深みのある歴史に年輪のように刻まれてゆく。
Sake news gets old within a year, but as it does, the information become layers that inscribe their history into the deepening field of sake.
「DAIGINJYO大吟醸」が、高級で美味い酒と世界には周知されているものの、意外にもこれらの多くは必ずしも料理に合わないことを、日本酒を好む美食家はご存知でしょう。
例えば、寿司にDAIGINJYOは、ペアリングとして非常に難しいのです。高級な大吟醸ばかりを取り揃えている寿司屋は、残念ながら良いお店ではありません。
Although "Daiginjyo" is known to the world as a high-quality and delicious sake, most Japanese sake connoisseurs probably know that a remarkable number of them do not pair well with meals.
That's right. For example, it is extremely difficult to pair Daiginjyo with sushi. So, a sushi restaurant that stocks up on mostly high-class Daiginjyo is, unfortunately, not a good restaurant.
◆
昔ながらの日本酒は勿論、日々更新される美味しくて料理に合うAmazingな日本酒の味を確かめ、皆さんにお伝えすることも私の使命ですので、定期的にセミナーや、飲食店スタッフへの研修も時々行なっています。
世界の飲食店の皆さんに、器の魅力とともに「本当のSAKEの選び方。愉しみ方」も、お伝えできればと思っています。
I'm constantly seeking-out new, delicious, and cuisine-complementing, amazing Japanese sake that I can share with you. I conduct training sessions for restaurant staff on a regular basis, and hold seminars from time to time.
I'd like to teach all of you restaurateurs out there, about the allure of vessels and "The Real Way to Select and Enjoy Japanese Sake."
・・・ちなみに、この写真に写っている4本のSAKE、とても新感覚でAmazingなSAKEたちです。
…By the way, the 4 bottles of sake that you see in the picture, they're all fascinating and amazing sake.