The Captivating Appeal of Rectangular Plates and Ceramic Tiles.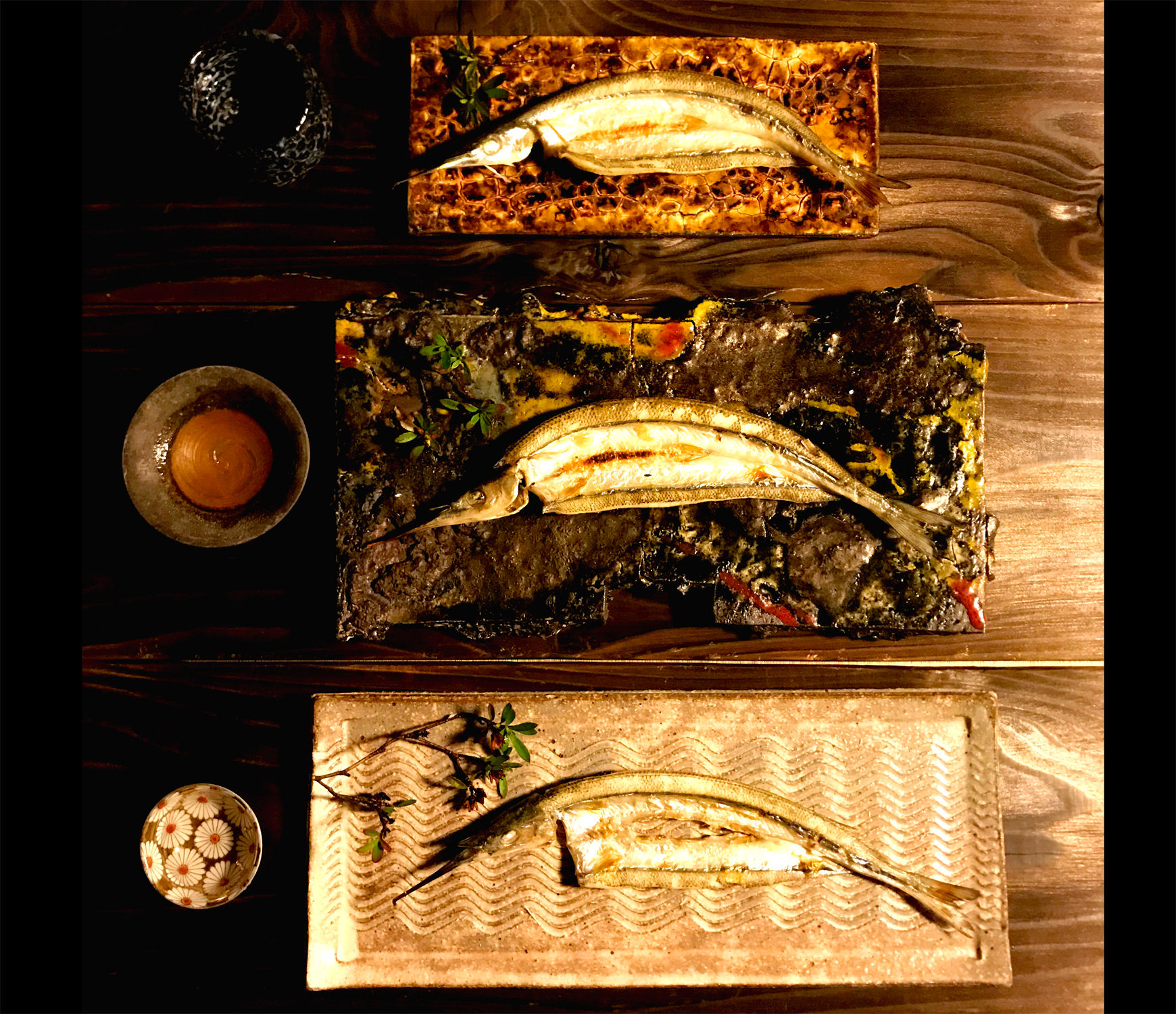 ◆
家庭で取り扱うことの少ない「角皿」。「陶板」。
飲食店でセンスの良い角皿が出てきたら、「ここは、こだわりのある良い店に違いない」と、美食家たちは、直感的に感じることだろう。
重かったり、やや扱いづらかったり。難点はあるものの(勿論その難点を克服しているものもある)、その器は酒膳をガラリと格の高い空間に変える魔力がある。和食ばかりでなく、チーズや生ハムなどのオードブルを色とりどり盛っても、これがなかなか映える。
Rectangular plates and ceramic tiles‐they're somewhat difficult to use at home.
If fancy ones are used at a restaurant, Japanese food connoisseurs might instinctively feel that, "Without a doubt, this restaurant is a good restaurant that cares about refined tastes and wares."
Although sometimes too heavy, or otherwise difficult to use (of course, there are also ceramic tiles that mitigate that difficulty), there is an appeal to them that can drastically transform a sake-zen into a delectable display. Even colorful samplings of hors d'oeuvres, such as cheese and prosciutto, will look quite nice and appetizing.
◆
写真の魚は、大ぶりのサヨリの塩焼き。品のいい白身に、香ばしい皮目は至高。
同じ肴を、タイプの異なる3種の角皿に盛ってみて、いかに雰囲気が変わり、またそれぞれが美しく旨そうに見えるか感じて頂けるでしょうか。これが、作家物の陶板の醍醐味。
料理と皿の印象から、ぐい吞や、酒を合わせたくなるのが料理人であり酔客だ。作風の異なる酒器を、敢えて合わせてみる。
The fish is a large Japanese halfbeak, salted and grilled. The elegant white meat and smoky aroma of the skin are sublime.
Take a look. I placed the same accompaniment on three different types of rectangular plates. Can you see how the appeal of each differs, and how each looks so uniquely lovely and delicious? That is what makes ceramic tiles created by artisans so captivating.
Those who are particularly compelled to contemplate combinations with sake cups, and sake, are chefs and drunken customers. They go out of their way to try and match differing styles of sake vessels.
◆
あなたならどんな肴を盛り、どんな酒器を合わせますか?
What kind of accompaniment would you choose to serve, and what kind of sake vessel would you choose to compliment it?